General Information

FlameShieldä Mil spec Aviation Silicone Tape is a self-extinguishing non-flammable tape without an adhesive specifically designed for aviation & marine use. Meets A-A-59163 and MIL-I-46852 specification, and many other OEM specifications. Forms an excellent seal that is weather / water / air-tight when wrapped around electrical connections and connectors, cable and wiring splices, hydraulic hose protection sleeves, duct joints and other electro-mechanical devices. Perfect for avionics wiring.

The special silicone formulation of this tape self-fuses (self-amalgamating) when stretched and over-wrapped. Completely flexible at cold temperatures and can be used to +500ºF / +260ºC continuous exposure. Does not support combustion and resists heat, flame, solder drips, slag, sparks, Ozone, UV light and contamination. Excellent arc and corona resistance.

Can be wrapped over oily or wet surfaces and is an excellent emergency repair tape. Used extensively as an avionics tape for wire and cable bundling and to protect electrical splices and connectors.
Easy & Clean to Use

FlameShieldä Avionics Silicone Tape Type II incorporates a blue marking stripe along its center, making it easy to over-wrap at 50% when taping long lengths. The triangular profile of the tape (thickest in the centre and reducing thickness towards each edge) ensures a smooth finish to the installation with minimum ridging. Easy to remove with a sharp blade while curing or when completely cured and does not leave a gummy or sticky residue the way pressure sensitive adhesive tapes such as standard vinyl electrical tapes or duct tapes do.
How to Install FlameShield Aviation Silicone Tape

Lift off the end of the tape from its backing film and then hold the free end onto what the tape is being installed on. With your other hand which is holding the remainder of the tape roll, moderately pull or stretch the tape while over-lapping the wrap. The stretching action activates the special formulation of silicone rubber with the result of the tape self-binding / self-fusing to itself.
Highly Resistant to Harsh Environments

Silicone tape resists fuels, oils, acids, solvents, UV, Ozone, high-heat, flame exposure, solder drips & sparks. The proprietary silicone formulation provides optimal thermal dispersion (high thermal conductivity) and also gives this tape its iron-oxide red colour.
Fusing / Bonding Time

FlameShieldä Mil spec silicone tape when over-wrapped under tension adheres to itself and fuses, forming a solid protective shield in 24 hours at room temperature or in just 4 hours at +356ºF / +180ºC. The tape starts to self-fuse / self-bond as it is used, and can be re-seated if necessary within a few seconds of over-wrapping. After a few minutes it is usually necessary to remove the tape with a knife.
Specifications & Standards

FlameShieldä Pure Silicone Tape may also be certified to the following specifications upon request (fees apply):
A-A-59163 Type I & II, MIL-I-46852C Type I & II, MIL-I-22444C, Underwriters Laboratories Inc UL-510,
Boeing DMS2186 Type II, Lockheed Martin MMS J517 & 5-00857, Safe Flight 59562-5
Systems & Electronics Inc ES7889, McDonnell Douglas Helicopter HS5215, General Dynamics P5384 Type II,
General Electric A50A493 / A50E112 / P5384, Rohr RMS315, FAR 25.853, CSA 22.2, Premier Farnell Corp 810112

Applicable NSN / NATO / OTAN Numbers: 5970-00-177-1627
Many Practical Uses

FlameShieldä aviation silicone tape makes for easy hose and cable bundling, replacing tie-wraps. Excellent for fixing leaks in piping and hoses. Makes a good emergency fan belt. Provides excellent weather protection for outdoor electrical and electronic connections. Great as a first-aid tape to hold splints & bandages in place. Can be used for harness wrapping and wire bundling for Class H insulation. Used extensively as a marine rigging tape.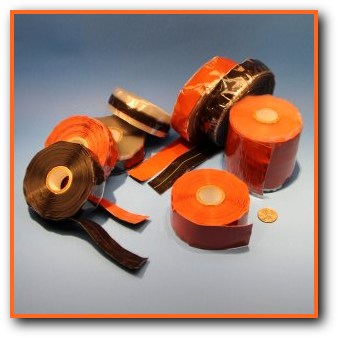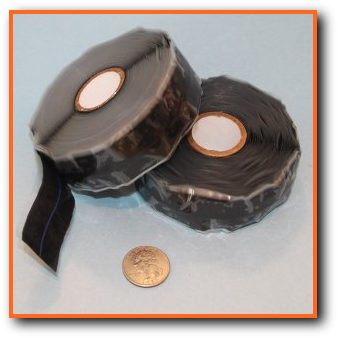 ·
·
·
·